When you want to produce large clouds and delicious flavor without the complication of building a coil.  The best sub-ohm tanks will allow you to do just that. 
Sub Ohm Tank Clouds
Sub-Ohm Tanks produce clouds at the same level as RTAs and RDAs if not even bigger clouds.  While you don't have the same control over the coil size, ohms, and cotton packing, you can rest assure that these pre-packaged coils have perfect cotton packing around the premade coil.  When building your own coil it can be difficult to maintain consistent cotton density.  Perfect wicking is one of the strongest factors of the best cloud production.  Sub Ohm tanks use disposable coils.  When one coil starts to lack performance you can just pop in a new replacement coil.
Flavor Production
If you don't already know, flavor production comes from small enclosed spaces around the coil chamber.  Have you ever noticed how pod systems give great flavor? or how MTL tanks are usually a small diameter? 
Yes, if you want increased flavor a sub-ohm tank is one of the best ways to get there.  In a sub-ohm tank, the size of the coil and amount of cotton is pre-determined.  This means that these parts are manufactured together with precision inside each tank unit.  Meaning there is not a lot of wasted space or air between the outlet and the coil.  Too much air is a killer of flavor.  The best flavors are going to come from the best sub-ohm tanks.
Want to learn more about sub-ohm tanks?  Check out this tutorial guide to sub-ohm vaping.
Best Sub Ohm Tanks
1.

FreeMax FireLuke 3 (Overall Best Sub Ohm)
FreeMax FireLuke 3 Sub Ohm Tank Vaporizer Atomizer is the world's first double and triple mesh coil sub-ohm tank, with an exquisite design and compact size. The FreeMax FireLuke 3 Tank has a diameter of 28 mm, a drip tip made of synthetic resin, and a capacity of 5 ml E-Juice for you. This option features sleek and intelligent design elements that create a universal, responsive design. The FreeMax FireLuke 3 tank has an upper fill and bottom airstream for a smoother taste and can be easily refilled by removing the top cap.
This is one of the best sub-ohm tanks due to the larger coil contact area and use of mesh.  Mesh coils produce more vapor.   The Kanthal Dual and Triple Mesh coil come with three resistor types, including Kanthal Single Mesh 0.15 ohm coil, Kanthal Double Mesh coil with 0.2 ohms, and Kanthal Triple Mesh 0.15 ohm coil, which have different outputs that can bring the massive clouds and better flavors than traditional coils.
Link 2 : Check Price
---
2.

Geekvape Zeus Z (Best Top Airflow Sub Ohm Tank)
The Zeus Z sub-ohm tank will give you an irrepressible desire to blow clouds without interruption thanks to their intense flavor tank measuring in at 26mm. Geekvape has implemented a super-fast and easy top-filling method. Featuring top airflow which greatly reduces the possibilities of any tank leakage.
All you have to do is push the top cap with a thumbs up to open the tank and access the fill hole from above! All you have to do is place the tip or pipette of your e-liquid bottle to refill the tank with a capacity of 5ml, making sure to bring the e-liquid down the glass to avoid accidentally falling into the chimney. Finally, you can close the top course by pushing it in the opposite direction. You will be able to fill up with juice even before you have expired the vapor of the previous puff!
To produce large clouds of vapor requires a large airflow, which is why Geekvape has chosen for its Zeus Z sub-ohm tank two large adjustable air inlets with a notched airflow ring to turn. You will be able to choose between a semi-aerial or aerial print according to your preferences of vape. In any case, with the best sub-ohm tank you will rediscover with this clearomizer the aerial vape and direct inhalation, now richer in flavors than before.
The Zeus tank has top airflow which directly concentrates the flow of air at the sub-ohm coil. This airflow orientation is used to cool down the vape and produce larger clouds of vapor. The direct airflow will concentrate the best flavor the sub-ohm tank can offer. Then the cloudy vapor will come to your lips with a wide 810 wide boron drip-tip, designed to let a large amount of vapor pass. And if the flavors of this tank will liven up every molecule of your body.   This is thanks to its perfectly calibrated top airflow and incredible new Zeus coils.
Link 2 : Check Price
---
3.

UWell Crown V (Best Anti-Leak Sub Ohm)
Low-resistance sub-ohm tanks are often unable to produce enough vapor clouds for the construction of the tank itself, it will not drain it with sufficient airflow. Although the glowing heads would be able, the tube inside the tank that the clouds of vapor is flowing is often too narrow and restricts the sub-tank. Uwell has solved by extending the coil cartridges almost to the length of the tank itself.  Featuring a 5mL ejuice tank capacity and a 29mm outer diameter.
The UWell Crown V eliminates the limitations of insufficient airflow with its innovative sub-ohm cartridge coils, and the vapor from the tank straight from the spiral (as with the RDA) does not need to pass through a narrow chamber tube that limits the airflow. This, of course, does not only affect vapor production but also flavors or the taste that is far more delicious and stronger than conventional sub tanks.
Constructively, the Crown V is constructed very simply, but cleverly.  It is one of the best sub-ohm tanks that can help to prevent leaks.  UWell had designed its own leak-free tank system by which there is a reservoir built into the sub-ohm cartridge that absorbs leakage.   The tank can be easily cleaned and completely dismantled, including the glass body. Thanks to the top filling, when you simply unscrew the top of the Crown V.  You can fill the tank comfortably without having to remove it from your vape mod and enjoy the best flavor and clouds.
Link 2 : Check Price
---
4.

Horizon Falcon King (Best Sub Ohm Flavor)
At first glance, an all-rounder low-resistance tank for direct flavor and cloud coating in the lungs, apart from the beautiful design, also offers an innovative soldering head or their fill. Stainless steel and glass designs boast excellent capacity starting out at 4ml and going up to 6ml. The three lower adjustable inlets give the sub-ohm cartridge a sufficient amount of air, leaving you with a pleasant and beautifully free, direct pulmonary cover.
The Falcon King sub-ohm tank also features mesh replacement atomizer heads. Both have a resistor of 0.2Ω and while the A4 head can handle 70W-80W, A6 will allow you to set 80W-90W. In addition to classical organic wool, the heads also contain linen paper. Allowing you to choose the coil for creating large clouds or concentration of flavor. While the cotton is in the outer part, the sub-ohm coil cotton is in contact with the spiral and is just evaporating the e-liquid.
Flame-retardant coil cotton has excellent absorbency and can hold a large amount of e-liquid, so it is important that the sub cartridges are properly primed before using for the first time, more than others. Because cotton wicking holds so much e-liquid, the frequency of dry hits and chances of burning are greatly reduced. The best flavor and clouds of the Falcon King sub-ohm tank are also served after a few consumed milliliters of e-liquid.
Link 2 : Check Price
---
5.

FreeMax Maxus Pro (Best For Clouds)
On the occasion of this new series of kits, FreeMax presents its new Maxus Pro Sub-Ohm Tank. Then discover the Maxus Pro Tank, which offers an optimized vape for the production of flavors and vapor clouds, in a new vaping format!
Small of course, but behind its small size, it hides a 5ml tank, enough to store a good amount of e-liquid! Innovative and efficient, the Maxus Pro sub-ohm tank offers a look reminiscent of high-end atomizer tanks, thanks to its resistance coils slightly isolated from the rest of the sub-tank. These choices are not only aesthetic, they also aim for greater longevity of resistance and tank durability.
To produce more clouds of vapor, the Maxus Pro Tank offers a direct aerial direct inhalation draw. Thanks to its triple airflow, the air intake will be greater and will then offer an effective cooling of the resistance coil in the cartridge.
You will be able to adjust the airflow by turning the airflow ring at the bottom of the sub-ohm tank, to reduce or increase the volume of air entering.  Dial-in the biggest clouds or dial it down to produce the best flavor.
Link 2 : Check Price
---
6.

Wotofo nexMESH Sub Tank
Wotofo and OFRF have proven that it is possible to create powerful rebuildable atomizers at a reduced price! With this success, the manufacturer has made the bet to repeat the feat by embarking on the world of clearomizers with the NexMesh Pro Sub-Ohm Tank!
With a diameter of 24 mm, this relatively discreet clearomizer can adapt to most boxes and mods while offering a generous 4.5 to 6 ml capacity tank.
On the aesthetic level, there is nothing wrong! Beautiful, this OFRF NexMesh Pro Sub-Ohm Tank also wants to offer a vape experience where flavor and cloud performance are kings. Thus, you will be able to exploit the filling system from above as well as the adjustable airflow located at the bottom of the tank. The latter can house a resistance NexMesh Pro in Kanthal of 0.20 ohm or resistance NexMesh in SS316L of 0.15 ohm.
Little by little, OFRF is making its way and continues to amaze us with its achievements worthy of the biggest manufacturers!
Link 2 : Check Price
---
7.

SMOK TFV16 Sub Tank
The most famous of the cloud hunters return in a version even more huge! The Smok TFV16 is a clearomizer that has been transformed over time into a sub-ohm tank. This sub-ohm tank has a phenomenal diameter of 32 mm and a massive capacity of 9 ml.
In order for the filling of this best sub-ohm tank to be a mere formality, Smok has equipped its creation with a filling from above. By pressing the button on the top-cap and rotating it, you will have access to the fill hole. No risk of the top of the tank opening inadvertently!
The second particularity of this TFV16 is at the level of the airflow. Always adjustable from the bottom, the latter is even wider than before which allows the obtaining even greater clouds. Cloud chasers rub their hands!
To put the odds on your side, you can rely on the strength TFV16 Mesh 0.17 ohm, 0.12 ohm TFV16 Dual Mesh provided or acquire TFV16 Triple Mesh 0.15 ohm. Even less reasonable than its big brother, this TFV16 Smok should delight all lovers of big clouds and excessive capacity!
In order to avoid any leakage, we recommend that you take a liquid with an LV level greater than 70% and close the airflow during filling!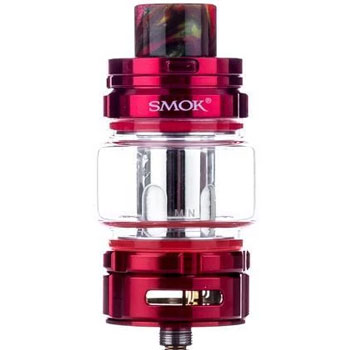 Link 2 : Check Price
---
VR:metax:nodesc:ppc0:xtranx:xtranreviewx:INFO:xtwitx:xfacex:xscoopx:02082021:grammarly